Ready to power your next workout?
Smoothies are the ideal pre-workout fuel and post-workout revitalizers. here are my five favorites. Try them all, or find a favorite and stock up on the ingredients so you can have a healthy, energy-packed, delicious smoothie anytime.
This smoothie is great for breakfast or post-workout as it is high in protein, healthy fats, and carbs to replenish your body and get you ready for the day.
Kick some serious butt in the gym with the energy this smoothie provides! It is loaded with superfood nutrients that will let you power through the day. I love adding Vega Sport chocolate performance protein into smoothies. The shake includes anti-inflammatories like turmeric which can help your body flush out toxins, heal, and repair itself in a holistic, Healthy way!
Sweet Protein Berry-Boost Serves 2
· handful of ice
· 1 tbsp Vega Sport Chocolate Performance Protein
· 1 1/2 cup coconut milk
· 1 cup strawberries
· 1/2 banana
· 1/2 cup raspberries
· 1 tbsp hemp seeds
· 1 drop liquid stevia
Blend and serve!
 
Not only does the Creamy Peach Delight taste like a dream, it will also directly help build muscle, burn fat, and keep you healthy and strong.
This creamy smoothie tastes like a special treat, and it is. When I make smoothies, I try to limit the amount of fruit I use due to its sugar content. Although it is all natural sugar, it is still sugar, and it can easily add up if you are not paying attention to what's going into your mouth. Too much sugar gets converted into fat, and I always suggest to my clients who are trying to lose to limit their fruit intake to one or two servings a day. The flavor in this smoothie is out-of-this-world gooood!
Creamy Peachy Delight Serves 2
· handful of ice
· 2 cups WANU Peach
· 1/2 banana
· 2 peaches
· 1 scoop Source Organic Whey Protein
· 1 tbsp hemp seeds
· 1 tbsp non-fat plain Greek yogurt
· 1 tsp cinnamon
· 1 drop liquid stevia
Blend and try not to drink it all at once!
 
I love drinking the Sweet Nana pre-workout. The combo of chia seeds and peanut butter will boost your energy to help you power through.
It's one of my favorite smoothie combinations! This tasty smoothie is full of fiber, protein, and omega-3's. It's a great way to start your day if you are in a rush and don't have time to cook breakfast.
Sweet Nana Smoothie Serves 3
· Handful of spinach
· Handful of ice
· 1 banana
· 1 pear
· 2 kiwis
· 1 tbsp chia seeds
· 1 tbsp unsalted peanut butter
· 1 drop liquid stevia
· 1/2 tsp cinnamon
· 2 cups unsweetened almond milk (depending on how thick you would want your smoothie to be)
· 2 kiwis for decoration
DIRECTIONS
Cut the kiwi in slices and line the glass on the inside with it to make it look pretty.
Blend all of the ingredients in a blender and enjoy.
The collagen in this smoothie will enable greater mobility and flexibility. Collagen is great for building stronger bones, joints, and lean, healthy muscles.
Hemp seeds are an excellent source of vital polyunsaturated fatty acids, which are very important for the human body. This smoothie is rich in dietary fiber, protein, and antioxidants.

Morning Sunrise Serves 2
· 2 peaches
· 1 banana, can be frozen
· 1 cup spinach
· 1 tbsp hemp seeds
· 1 tbsp DR Axe collagen (optional)
· 2 tbsp almonds
· 1 cup filtered water
· 1 cup almond milk
· 4-5 ice cubes
Blend and enjoy!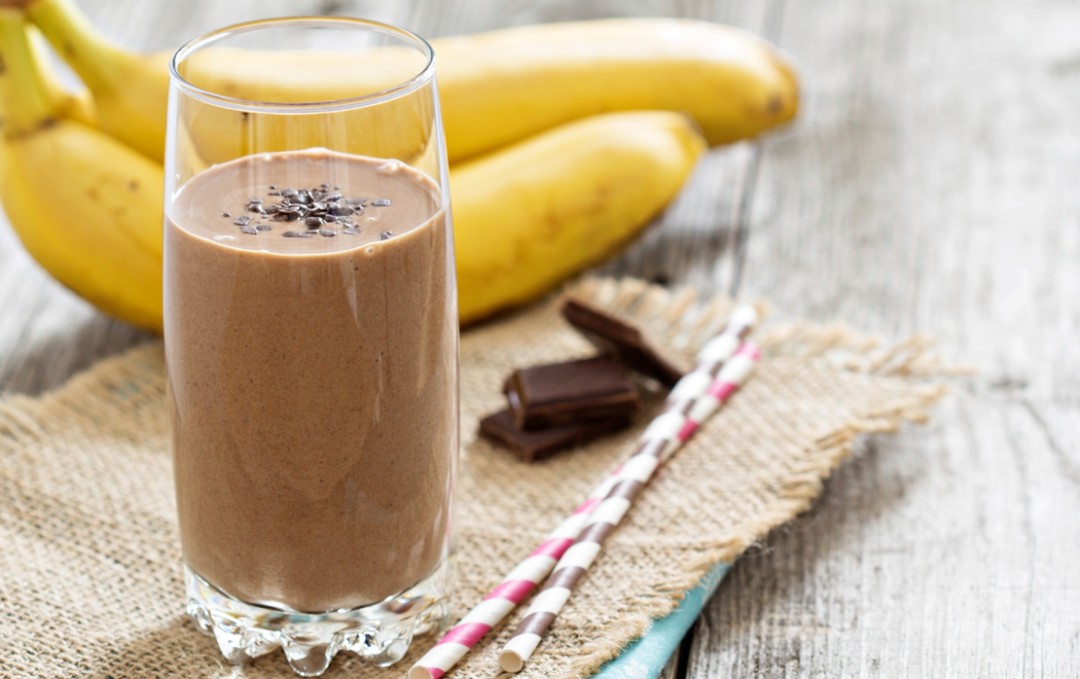 Chocolate Chunky Monkey Smoothie

Almost too good to be true, this chocolately smoothie is packed with good for you nutrients and protein — and there's no added sugar!
Just like the chocolate milk shake you loved as a child, but this one is packed with good-for-you nutrients and is sugar-free. Dark chocolate consumption can be useful in maintaining good heart health, as it decreases the amount of cholesterol and reduces inflammation. Once you've tried this smoothie, it will become your favorite go-to chocolate snack.
Chocolate Chunky Monkey Serves 2
· handful of ice
· 1 tbsp raw cacao powder
· scoop of protein, I use Vega Sport
· 2 tbsp hemp seeds
· 2 dates, pitted
· 1 banana
· 2 tbsp organic almond butter
· 2 cups unsweetened almond vanilla milk
Blend, drink and say aahhh!
Smoothies make fueling up for a workout or a busy day at work a breeze. It's an easy way to get great, nutrient rich foods into your body with no hassle. No special skills required, just toss everything into your blender, mix and drink. Plus, they are delicious. Healthy, muscle-building, fat-burning, energy-fueled food can taste great.